Outdoor Kitchen Ideas to Save Your Summer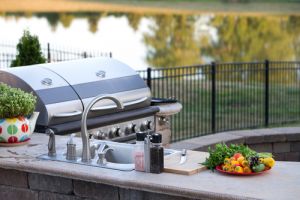 If you're like us, you can't wait to get outdoors this summer and finally gather with friends and family! Keep reading for ideas to inspire your outdoor kitchen in Cumming GA.
When you think "outdoor kitchen", you probably think of the grill or bar, but not much else. At Atlanta Outdoor Designs we create one of a kind all-inclusive outdoor kitchens fit for the "host with the most", the newlyweds, or the full house. Whatever your dream backyard may be, we're here to make it a reality. Check out these outdoor kitchen additions to spice up your meal.
Pizza Oven:
Having a fireplace or fire pit elevates your outdoor lounge space, so why not bring that heat to the outdoor kitchen! A traditional firestone oven is the perfect addition for those inner circle evening gatherings; pair it with a glass of wine and we're in!
Family Style Dining:
Ditch the old patio table for a large, rectangular style that welcomes all of your guests. A large outdoor dining space is perfect for family dinners or small parties (we're keeping it 10 or less this year!) You can style it with benches or bar stools for a space the whole family can enjoy! 
Bar:
What's dinner without drinks? Including a bar in your outdoor kitchen adds a new element and fresh opportunities for events. Whether you're hosting this weekend, or just enjoying a day in the sun, a fully stocked bar is sure to get the good times going. 
Below Deck Fridge:
If your outdoor kitchen is more low maintenance, consider saving space and face with hidden refrigeration. Instead of a full standing fridge, built in cooler drawers are perfect for holding drinks and snacks and give your outdoor kitchen a unique flare. 
Swim-Up Seating:
This trendy resort feature is perfect for an outdoor kitchen or backyard bar, and totally adaptable to your backyard space. You can build your pool around seating, or seating around your pool. Just remember to wait 30 minutes after you eat to swim away!
Above Ground Wine Cellar:
For our wine connoisseurs, take your collection outside to show off! A wine cellar  is a chic way to add personality to your outdoor kitchen. If wine isn't your thing, customize your collection to fit your kitchen- BBQ, brewing, and brunch are all themes we can get behind the counter for!
However you choose to elevate your outdoor space this year, we're here to help you find the best customizations for your outdoor kitchen and pool area. 
For more information on outdoor kitchen Atlanta GA, outdoor kitchen Cumming GA and pool builder Cumming GA visit Atlanta Outdoor Designs today!